Stardew Valley Gift Guide (with tips on creating a gift guide)
This is article is about gaming and creating gift guides.
Remember how I put together the ultimate guide to creating gift guides?  Well, here's a very specific gift guide for Stardew Valley gifts.
This post serves as an example to show you how to create a gift guide that will generate affiliate income.
Steps to Creating a Stardew Valley Gift Guide
Step 1: Do Keyword Research
In SEMrush, I used the Keyword Magic Tool to find keywords related to gift guides that had a high volume of searches and low keyword difficulty.
I liked the results of the keyword "stardew valley gift guide" since it had a volume of 6,600 monthly searches, and a keyword difficulty of 44%.
The keyword difficulty shows you how hard it would be to rank organically in Google's top 10 results for the analyzed keyword.  The higher the percentage, the harder it would be.
Step 2: Learn More About the Keyword
Honestly, I had never even heard of Stardew Valley.  I had to Google it to find out what it was.
About Stardew Valley
Stardew Valley is a country-life role-playing video game for PC / Mac / Linux, Xbox One, Playstation 4, Playstation VITA, Nintendo Switch, iOS and Android.
At the start of the game, you have inherited your grandfather's old farm plot in Stardew Valley.  With some hand-me-down tools and a few coins, you set out to begin your new life.
In the game, you get to raise animals, grow crops, invite players to join you to build farms, share resources, and improve the local community.  You get to explore a cave with dangerous monsters, powerful weapons, new environments, valuable gems, foraged minerals, raw materials for crafting and upgrading tools, and mysteries to be uncovered.
The game even includes friendships, courtships, loves, and marriages. There are 12 available bachelors and bachelorettes to marry, live with, and maybe even have kids and start a family.
There are lots of customizable options such as the appearance of your character and house.
Stardew Valley Villager Gifts
As I was doing keyword research I found out that within the game, there are Stardew Valley Villager gifts.  There are websites and Reddit forums to find every dateable character, the gifts they love, and how to get the gifts.   Here's an infographic I found listing each Stardew Valley villager and the gifts that they love.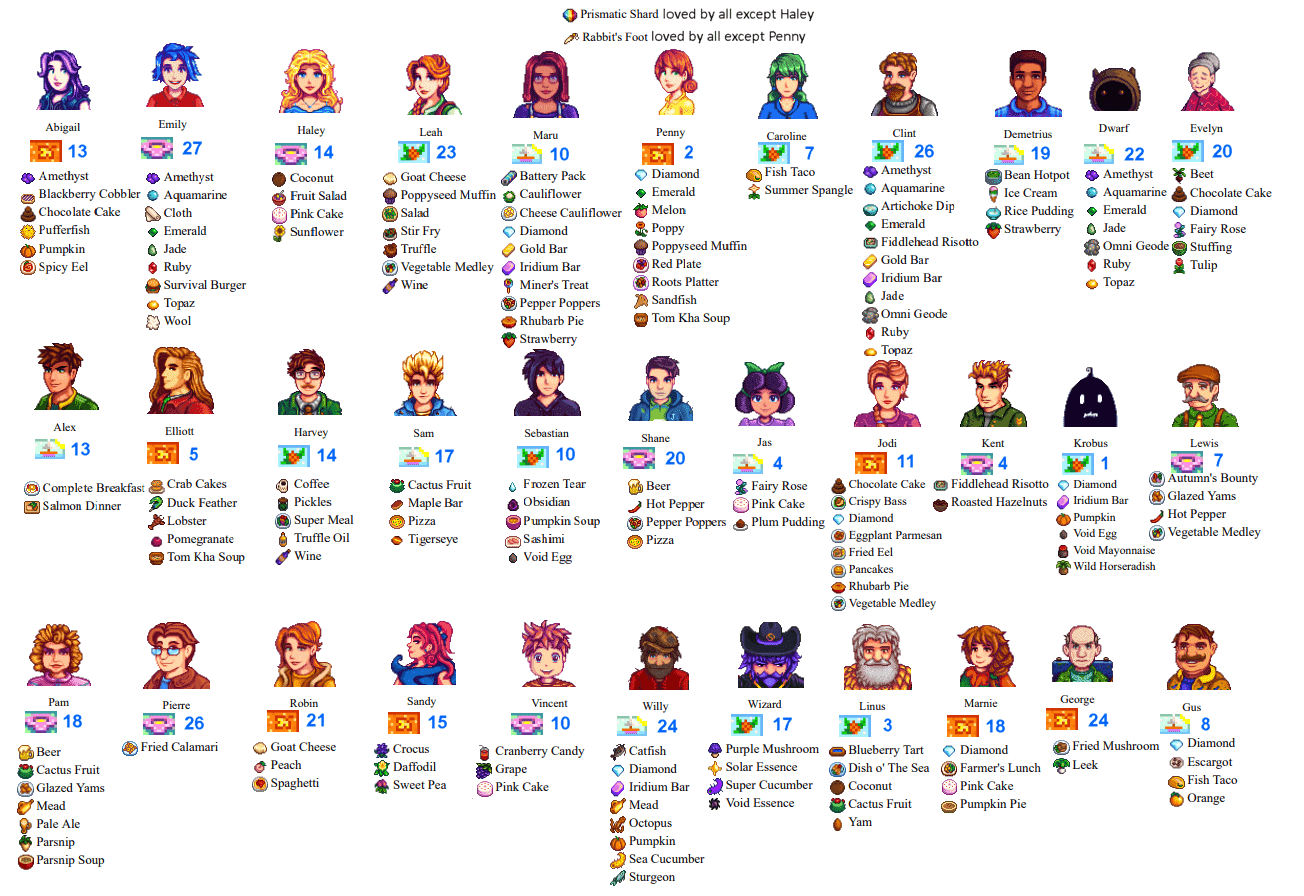 Learn about the Stardew characters' likes and dislikes and more details about Abigail, Shane, Leah, Sam, and Caroline.  Find out about prismatic shard and rabbit's foot loved.  See which characters like pink cake, coconut, diamond, ruby, daffodil, and more.
Step 3: Start Creating the Content for Your Gift Guide
As I write a gift guide, I keep the user search intent in mind.  In this case, the reader is either looking to purchase a gift at that moment or intending to buy in the near future.  So, gift guides could have mixed search intent of both transactional intent and commercial investigating intent.
Your goal as you create the gift guide is to not only help them find your article but to also provide the information that they are looking for.
As Google works to improve its algorithm for search intent, Google ranks pages according to the best fit for a search term.
When you create content make sure your post is a good fit for your audience's search intent.
To do this, include relevant keywords for your topic and intent.  For the transactional search intents, be sure to use words like buy or purchase, deals, and brand names.  For commercial investigating intent include words like "why", "how to", and "best way to".
The Best Gifts for Stardew Valley Gamers
As I put together my list of gift ideas for Stardew Valley, I will look at the Stardew Valley site to see the products they sell, third party sites like Amazon, and gaming niche online stores.
Here are some of the Stardew Valley favorite things.
11oz Coffee Mug Stardew Valley Boosts
Ultra-Soft Micro Fleece Blanket Couch 60 x 50
Funny Valley Girl Shirt
Stardew Valley Animals Water Bottle Decals Set
Stardew Valley Junimo Plush Dolls on Etsy
Shop the product on Etsy here.
Stardew Valley Food Long Sleeve T-Shirt
Buy this cute shirt from Teepublic.
Learn more about promoting your gift guide and making sure you follow FTC rules here.
Rachel K. Belkin, M.Ed is an Austin, Texas blogger, entrepreneur, speaker, freelance writer, and educator. After selling her lifestyle blog for six figures in 2021, she teaches business, blogging, and influencer marketing strategies that helped her build her business on part-time hours. Bylines include MSN, Associated Press, HuffPost, Medium, NewsBreak, and Hometalk. She has been featured on KXAN, Studio 512, Fox 7 Austin, CBS Austin, and other news and media outlets.