Bikinis in the Snow Week 7 – Physical Affection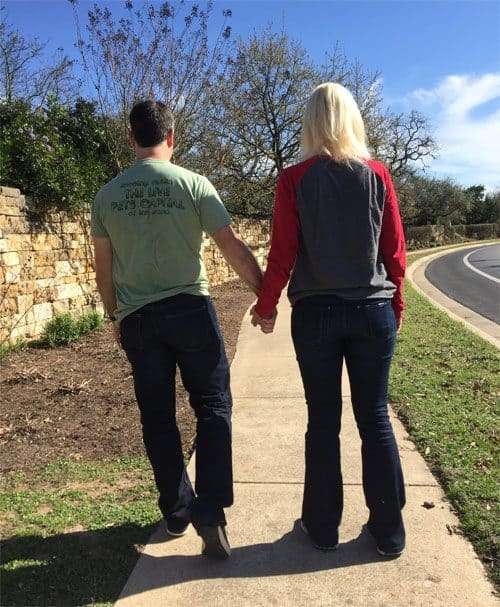 For week 7 of Bikinis in the Snow, we decided to focus on physical affection.  As married couple of 13+ years, we don't often hold hands, hug, or snuggle.
Bikinis in the Snow Week 7 – Physical Affection
In honor of Valentine's Day, we thought the Physical Affection challenge would be a good one for this week.  Our goal was to remember to hold hands more, hug and touch more.
We did not have any special plans this week, but we tried to remember to hold hands on walks.  We sat close to each other on the couch.  We hugged more.
This challenge was not an uncomfortable one.  I enjoyed working to reconnect. The hard part was remembering to show more physical affection towards one another.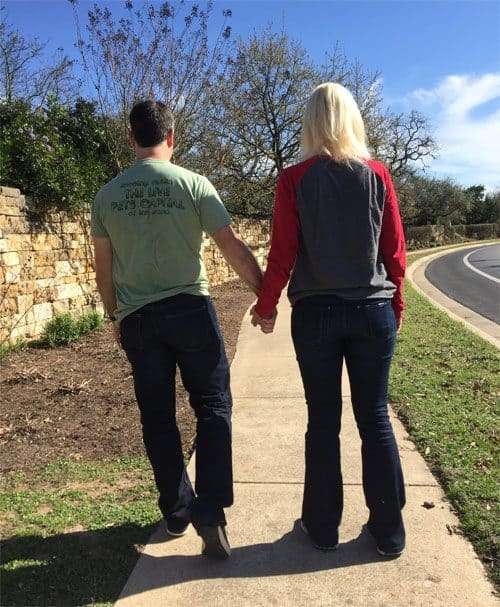 Rachel
How did I feel before trying this challenge?
I was worried this challenge would be silly and feel fake.
How did I feel during the challenge?
I had fun with it.  It was fun reminding each other that we were supposed to be more affectionate.  Even though it felt kind of silly, we walked holding hands in the neighborhood. We thought people were probably thinking it was cute as they drove by.
How do I feel after the challenge?
I'm glad we did this one.  It wasn't as bad as I thought.  Yes, at times we were silly, but that's what made it fun.  Nothing seemed fake.
What did I learn?
Morry and I should try to be more affectionate outside of this challenge.  It is a nice way to connect and show each other our love during random times throughout the day.
Rachel Belkin is an Austin, Texas blogger, entrepreneur, speaker, freelance writer, and educator. After selling her lifestyle blog for six figures in 2021, she teaches business, blogging, and influencer marketing strategies that helped her build her business on part-time hours. Bylines include MSN, HuffPost, Medium, NewsBreak, and Hometalk. She has been featured on KXAN, Studio 512, Fox 7 Austin, CBS Austin, and other news and media outlets.