Bikinis in the Snow Week 12 – Pedicures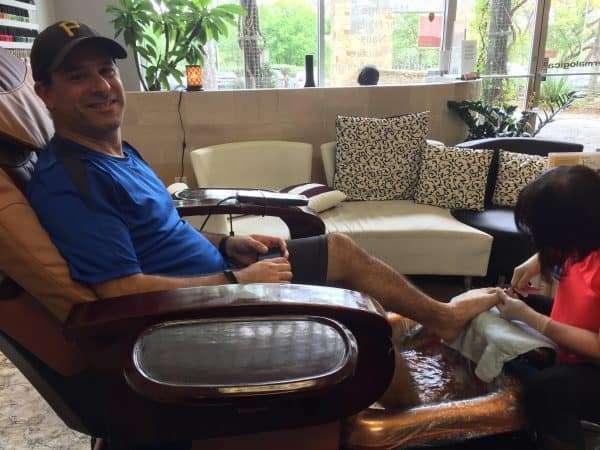 This week for Bikinis in the Snow, we got pedicures.   Yes, both of us.  For me, it was not a big deal. In fact, I was pretty excited to include this as a challenge. Morry, on the other hand, has never had a pedicure, and never thought about getting one either!
After our usual Friday lunch at Wholy Bagel, we went to Oasis Day Spa for pedicures.   Luckily, there were a few other men getting pedicures as well.  I think it helped ease Morry's apprehension.
Morry seemed to enjoy the massage chair and foot massage.  Of course, I had a nice time getting pampered too.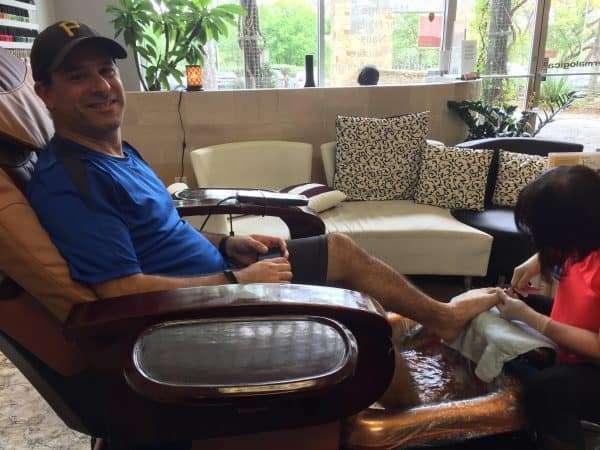 Rachel
How did I feel before trying this challenge?
Of course, I was looking forward to this challenge.    I need to plan more of these spa-like challenges.
How did I feel during the challenge?
I enjoyed relaxing and it was nice to see Morry relaxing as well. The last few weeks  have been pretty stressful and it was good to see him have a little break.
How do I feel after the challenge?
I'm glad we did this together and I'm glad Morry wasn't embarrassed to get a pedicure.
What did I learn?
I learned I should get pedicures more often! ha ha!  But really, I learned that Morry is open to trying new things, especially for something that is typically a female outing.
Rachel K. Belkin, M.Ed, is a journalist and writer with over 15 years of expertise in travel, business and marketing education, health, and local Austin, Texas events.
With a Master's degree in education from Texas State University and a Business Foundations Certification from The University of Texas at Austin McCombs School of Business, Rachel's extensive background is highlighted by her published works and contributions to prestigious publications, including HuffPost, Hometalk, Matador Network, AP News, and MSN.com, as well as on her own platforms, Rachel K. Belkin, Elkin Bay, and Probe the Globe.
Beyond her accomplishments in writing, Rachel is a sought-after educator, teaching businesses effective marketing strategies and content creation techniques. Notably, she successfully built a blog from scratch in 2008, ultimately selling it for six figures in 2021.
Rachel's commitment to advocacy is exemplified by her role on the Breast Cancer Resource Center Advisory Council, particularly contributing to the success of the Young Survivor Project. Rachel is also an experienced public speaker with appearances on TV segments for Fox 7 Austin, KXAN, and CBS Austin and as a speaker at conferences and professional networking meetings for business owners and cancer survivors.