Austin Mac & Cheese Festival 2021 – Unique Tastings from Popular Local Austin Restaurants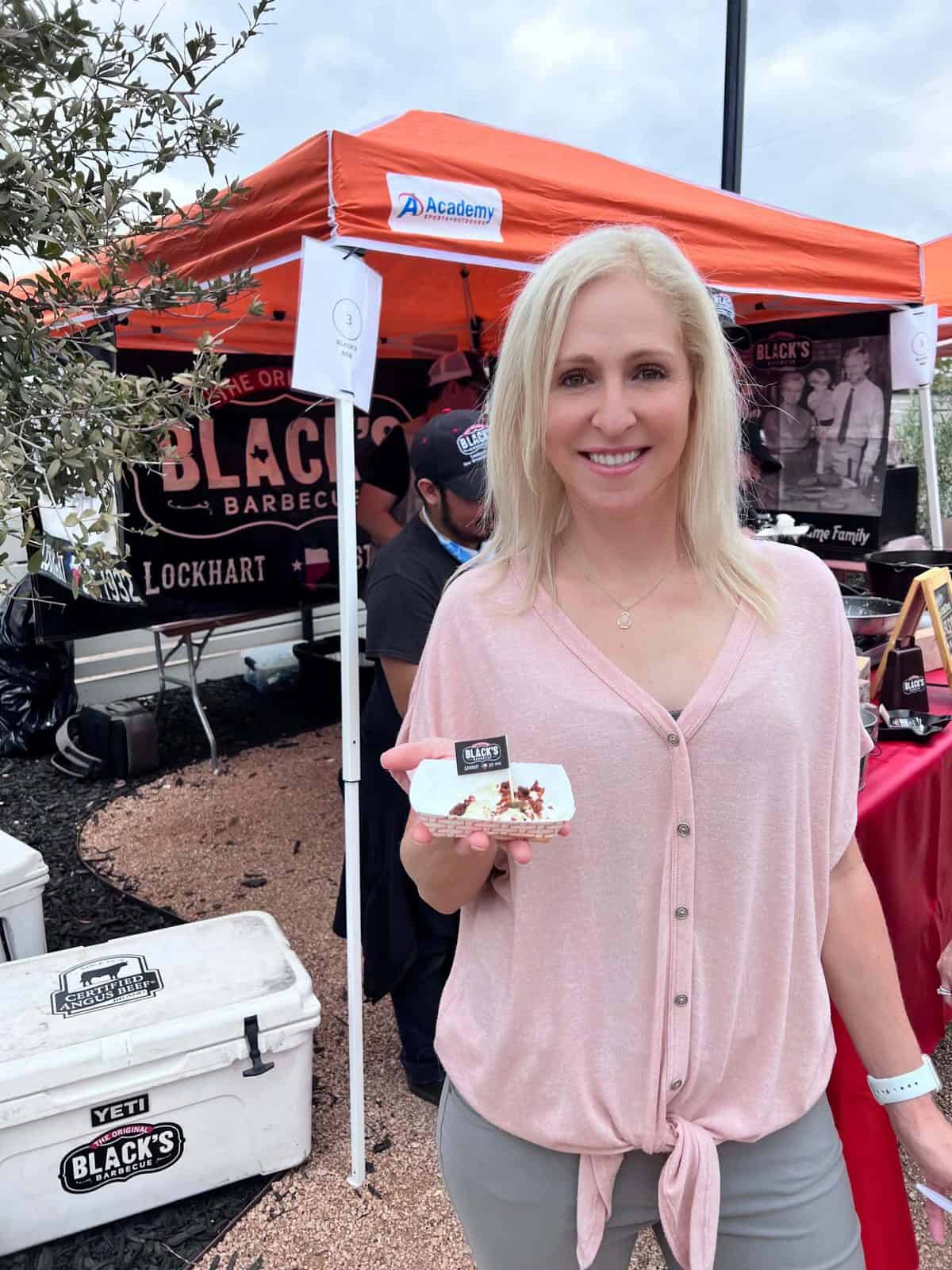 On November 21, 2021, the Austin Mac and Cheese Festival returned for a live, in-person pop-up event with unique tastings from popular local Austin restaurants.
Over the last few years, I would see Austin Food Magazine post the Mac and Cheese Festival, but for various reasons I couldn't attend.  This year, I was finally able to go, thanks to winning their Instagram giveaway.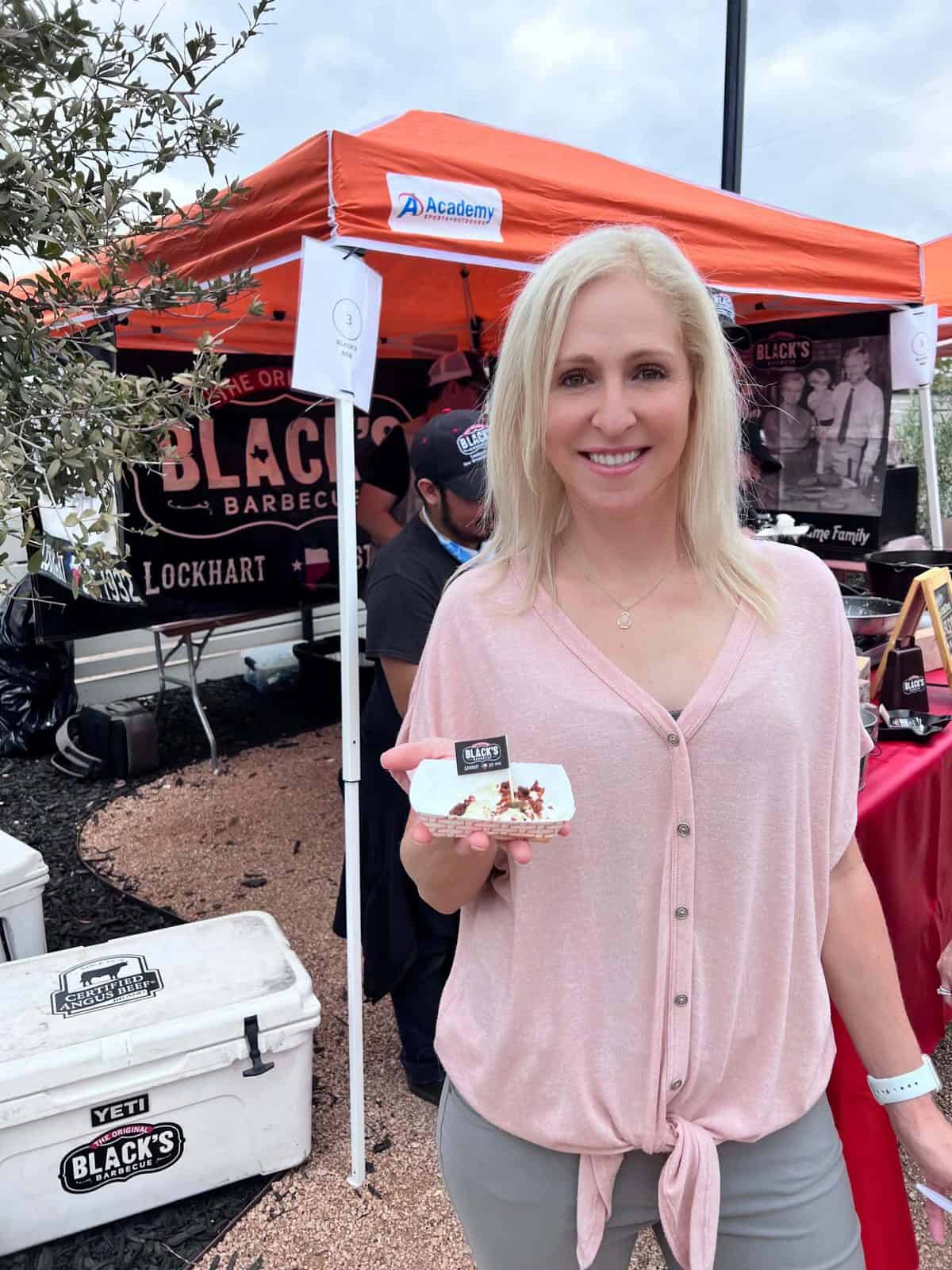 About the Austin Mac and Cheese Festival
This year, the 5th annual mac and cheese party was outdoors at Celis Brewery Beer Garden.  A limited amount of tickets were available for $45 each.
The beer garden was filled with Austin food bloggers, foodies, and their furry friends.
The tickets included unlimited tastings from the 8 different popular Austin-based restaurants, eateries, and food trucks.    Then attendees could vote on their favorite.
Here is the list of Mac and Cheese competitors:
Barrett Black – The Original Black's BBQ
Chef Bryan Beneke – Asti Trattoria
Chef Kareem M Elghayesh – KG BBQ
Chef Ryan Rosen – Brooklyn Breakfast Shop
Elpida Sarnacchiarc – Amici Cuisina Italiana
Thomas Micklethwait – Micklethwait Craft Meats
Yauss Berenji – Skull & Cakebones
Chef Chris Andrews – TLC
Lance Phillips – Teal House Bakery (Not mac and cheese, but yummy cinnamon rolls!)
Tickets also included Celis Brewery beer and non-alcoholic beverages.
Finally, I Get to Attend the Festival
Shortly after 11am, my friend Melissa and I arrived at the beer garden.
We were greeted with a nice cold, cold brew coffee from  Chameleon Cold Brew.   Melissa was impressed by the selection of creamer options to go along with coffee.
One-by-one we made our way to the various tents for samples.   There was quite a variety of takes on the common comfort food.
Skull & Cakebones vegan mac and cheese was both crunchy and creamy.  I had no idea I was eaten a vegan dish until afterwards when they told me.
For a sweet option, Black's Barbecue offered a mallow mascarpone, crispy, mac with honey jalapeño, bourbon sausage.
And with a Mediterranean flare, KG BBQ's samples were topped with pomegranates.
What a fun day!
The voted favorite was Asti Trattoria's cacio e pepe made with aged parmesan cheese.
I can't wait for the 2022 Mac and Cheese Festival!
Rachel K. Belkin, M.Ed is an Austin, Texas blogger, entrepreneur, speaker, freelance writer, and educator. After selling her lifestyle blog for six figures in 2021, she teaches business, blogging, and influencer marketing strategies that helped her build her business on part-time hours. Bylines include MSN, Associated Press, HuffPost, Medium, NewsBreak, and Hometalk. She has been featured on KXAN, Studio 512, Fox 7 Austin, CBS Austin, and other news and media outlets.